What to expect in this course
This course celebrates the flowers used in the winter season in the northern hemisphere. The true challenge? They are miniature paper versions.
Create the final project with the instructor or make your own finale with the winter whites recipe. With 23 stems total, five flowers and two foliages, you'll have a bundle of beauty to design your dreams.
Miniature Amaryllis
Create three scapes of miniature amaryllis, featuring three blooms and several buds.
Although most of us in the northern hemisphere know "amaryllis" as a forced bulb with which we liven the winter months, it is technically Hippeastrum. The true Amaryllis belladonna is a native of South Africa. See more here!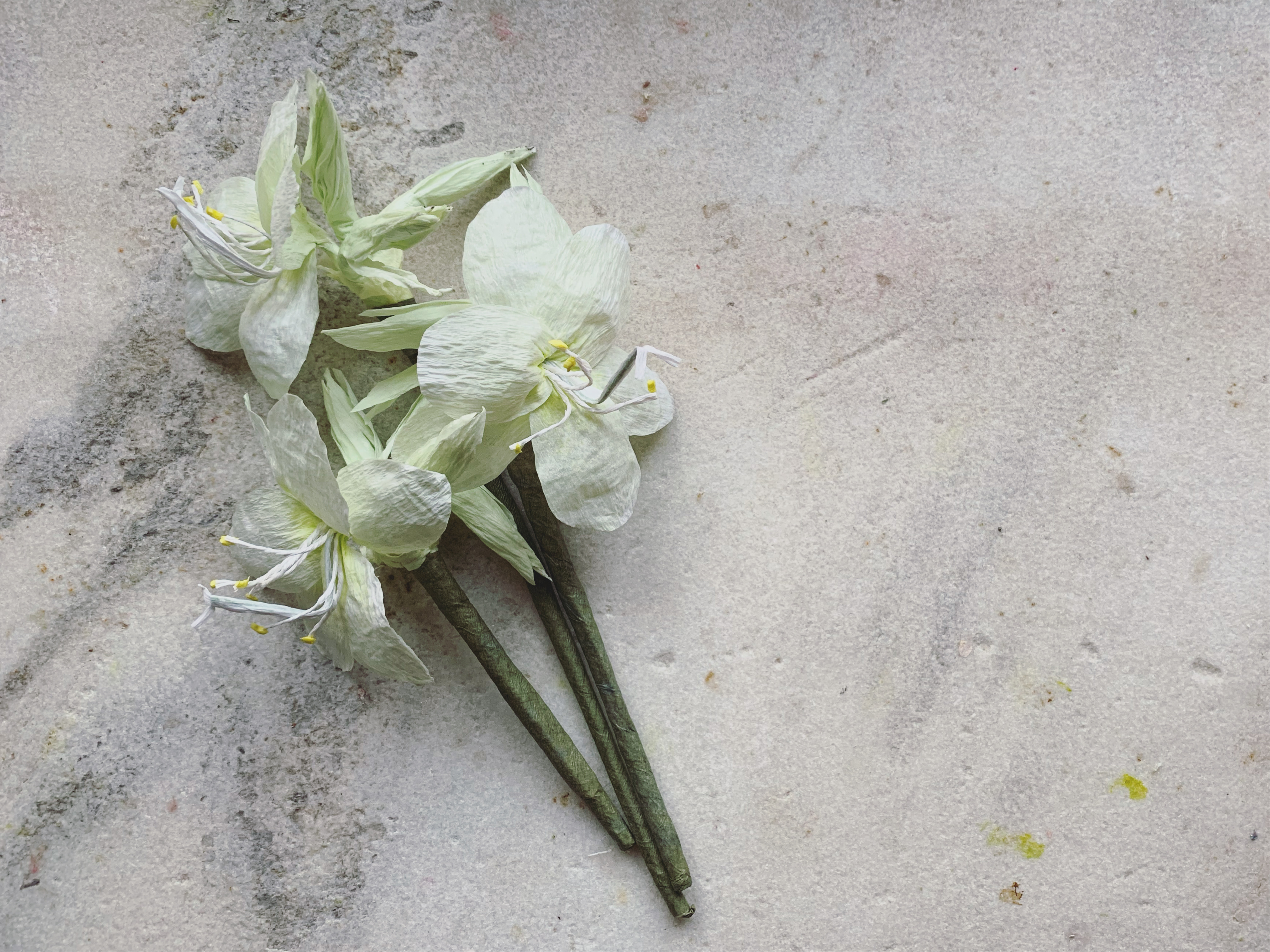 ---
Miniature Paper Hellebores and Foliage
Create five blooms with seed pods and five stems of foliage. With additional materials add buds.
This flower is also known as the Lenten Rose or Christmas Rose because it blooms during the Christian holiday in December. It is not related to the rose at all. It's name is derived from two Greek words which mean "food that injures" .... many varieties are poisonous. The flowers hold their petals for a long time because in fact they are not petals, but sepals! Mysteries solved for the wondrous winter bloom I call the hellie.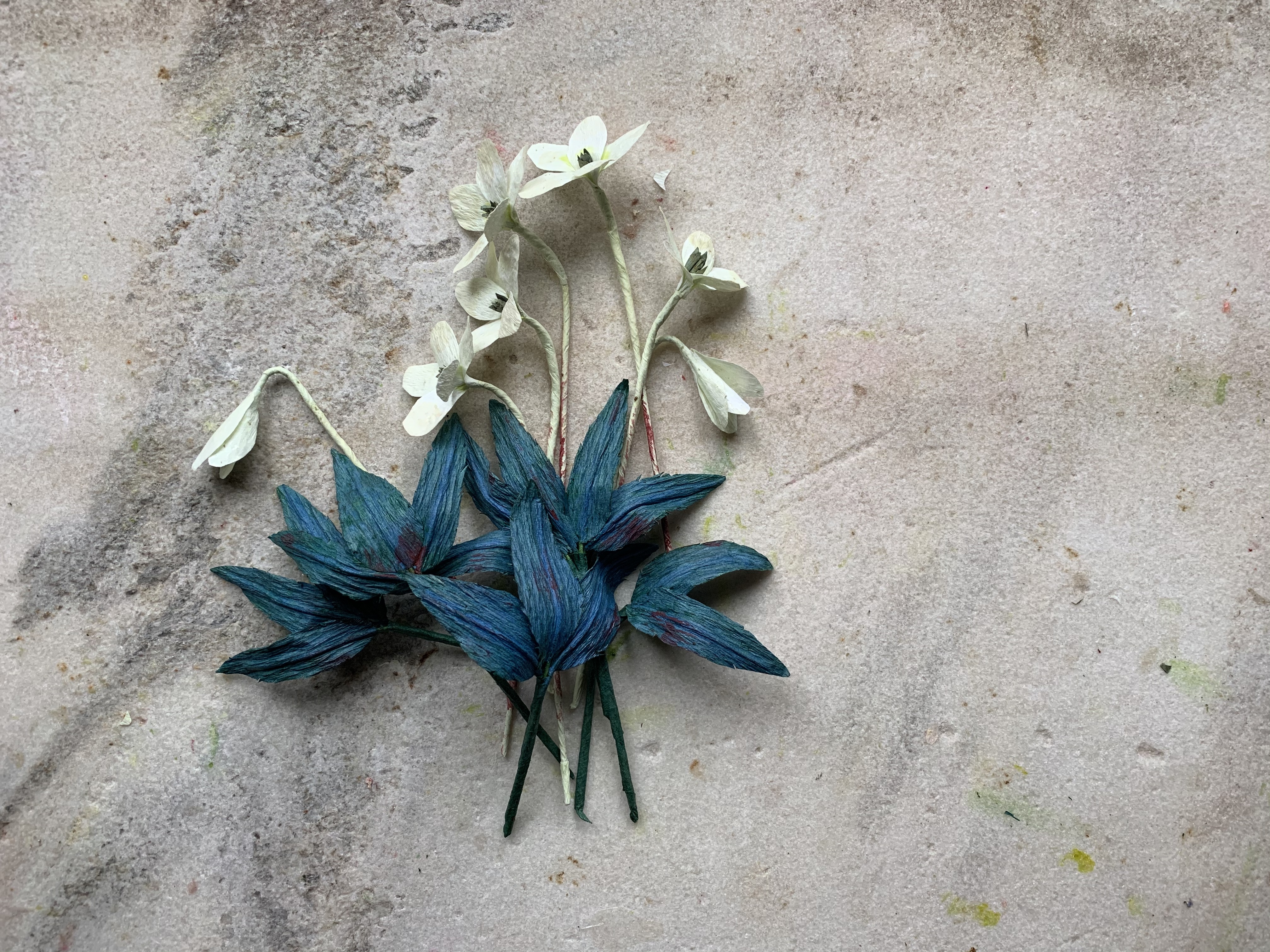 ---
Miniature Japanese Anemone
Make three stems with laminated filaments and anthers, a round center, sepals and bits of foliage.
This herbaceous perennial produces beautiful white flowers. In some of the US, it can be invasive, spreading through rhizomes. It is a member of the buttercup family. I based this flower on the gorgeous cultivar 'Honorine Jobert'. This hybrid is also known as 'Alba', of interest to me, as it is Spanish for "dawn".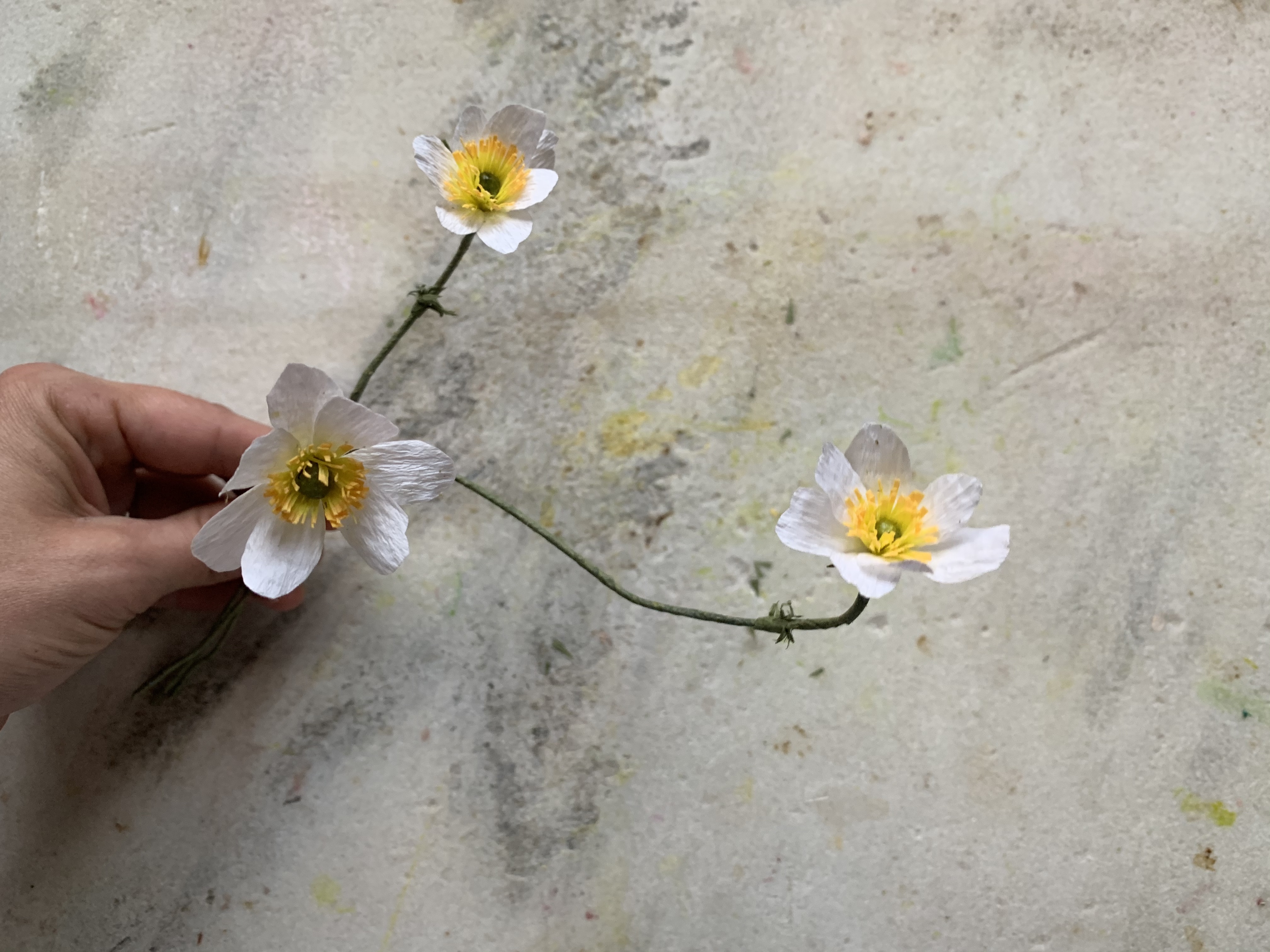 ---
Miniature Japanese Chrysanthemums
Make two stems out of single ply 180 gram crepe and two leaves with laminated foliage.
These beautiful flowers are my interpretation of this autumnal tender perennial. Symbols of grief, death, and to honor those who have died, the white chrysanthemum is revered within the Japanese culture. These flowers can also can mean devotion and love.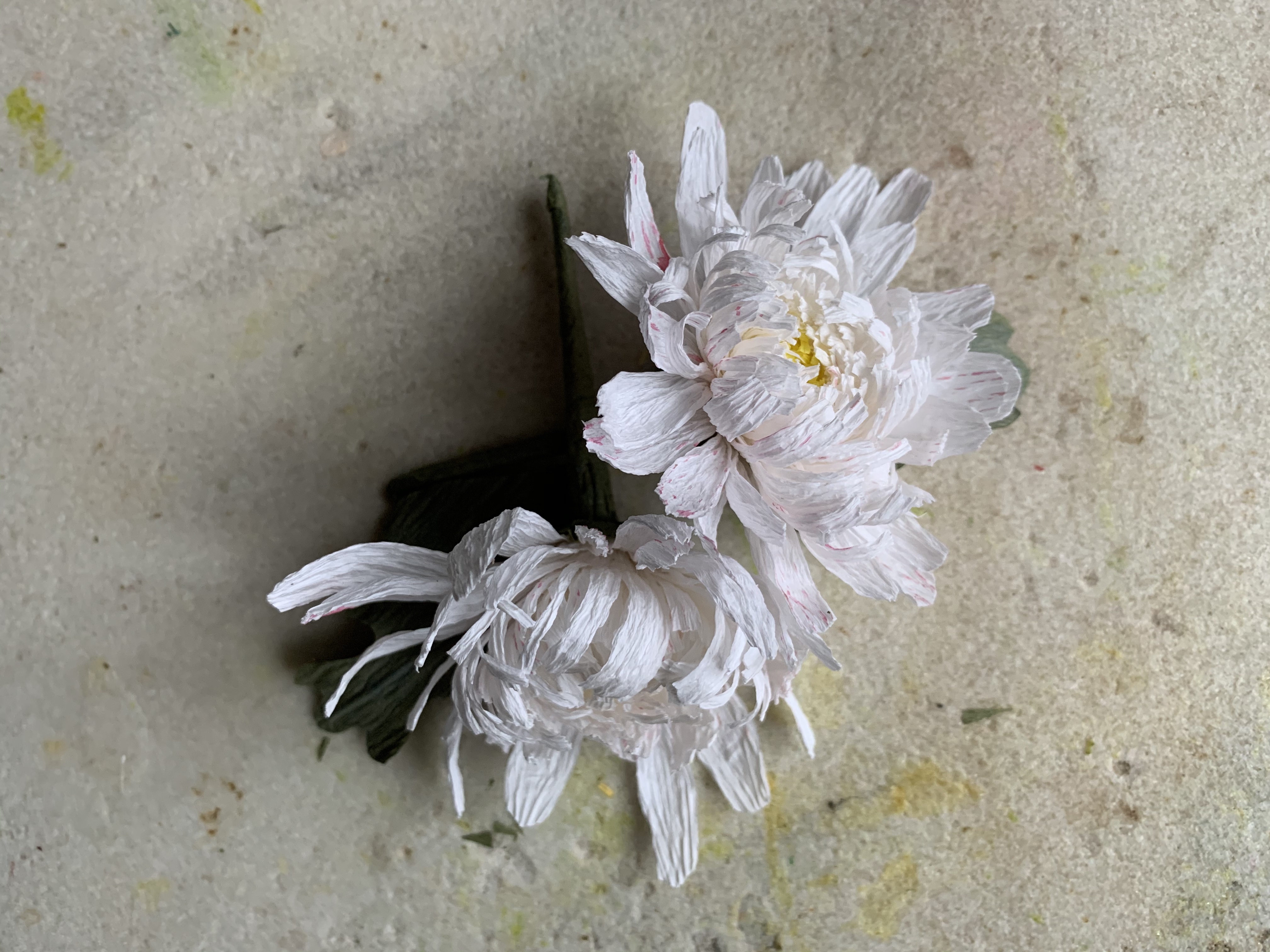 ---
Miniature David Austin Roses
Make five stems of a shrub rose based on 'Winchester Cathedral' - a sport of the 'Mary' rose, discovered at, you guessed it! Winchester Cathedral.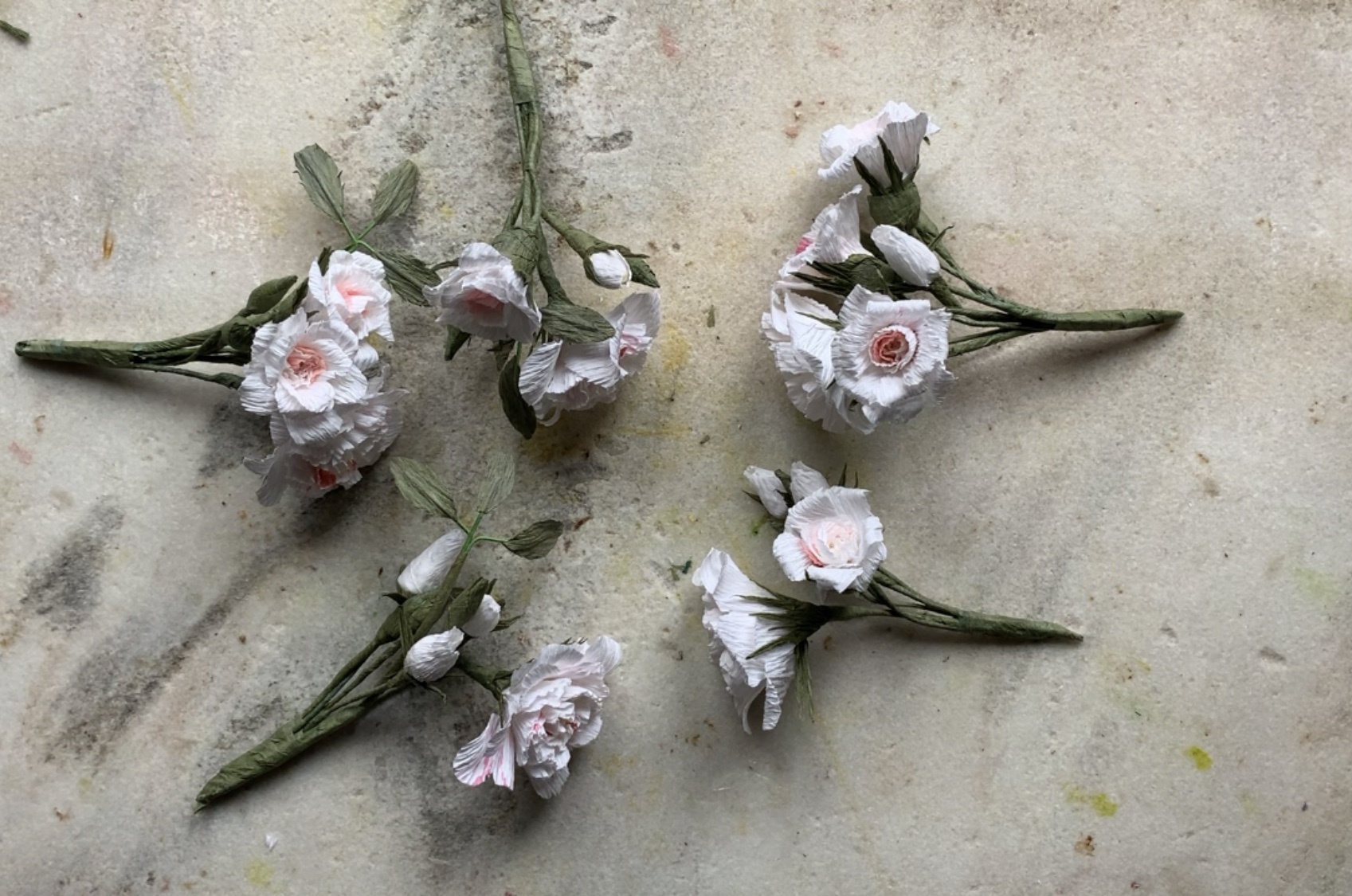 ---
Bonus Foliages
Make two miniature paper balsam fir tips and three miniature paper birch branches-the perfect accompaniments to the flowers you've just created. Make the final project with the instructor or design your own with winter whites!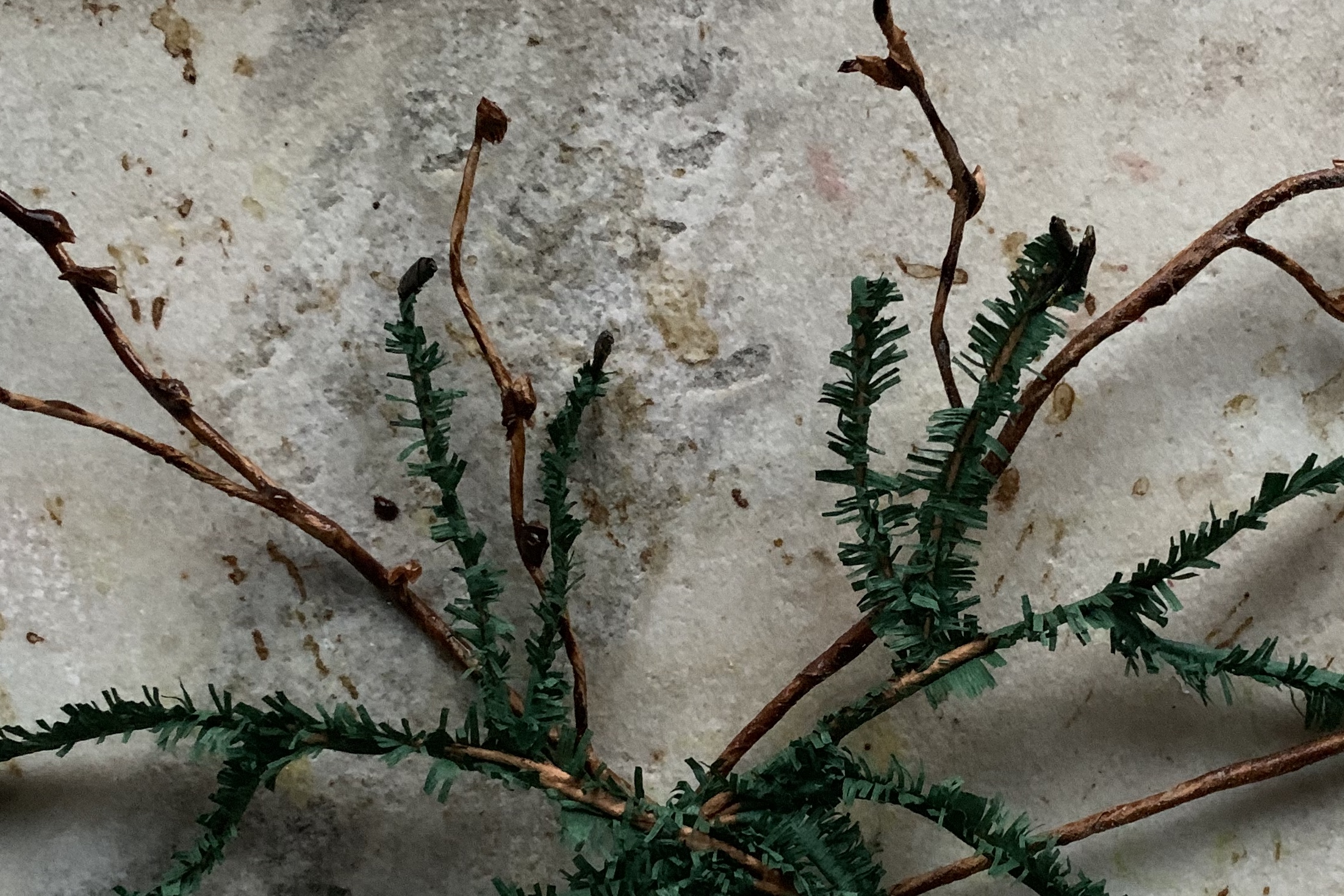 ---
Review opportunities are at the end of each lesson. Thank you for your feedback.
Complete and Continue