Introduction and how the lesson will work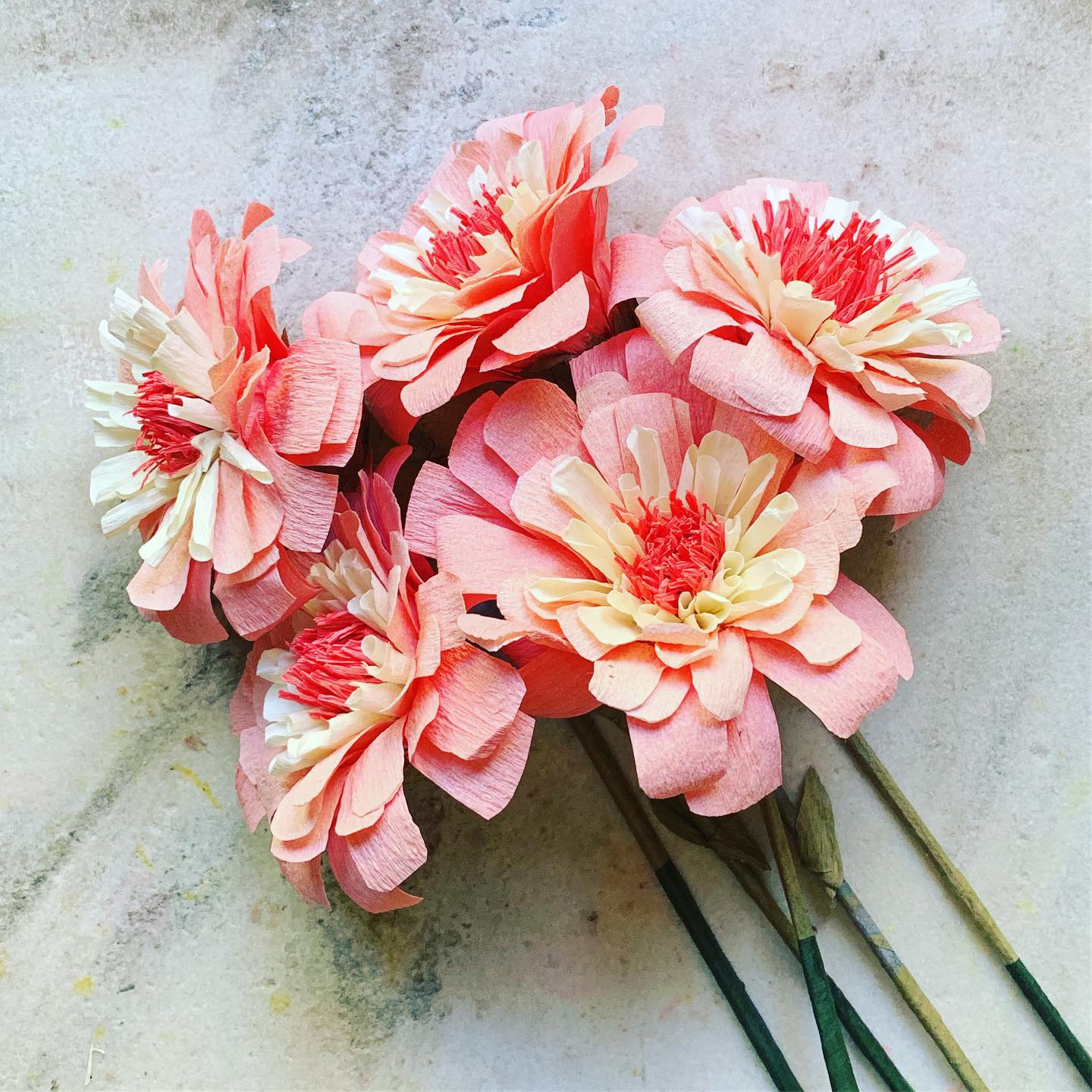 Zinnias are a cheerful and elegant cut flower.
They are a member of the Asteraceae family. This means zinnias are actually composite flowers, and the individual "petals" are actually florets. These florets form the composite flower we know and love. My version in this lesson was based on the 'Queen Lime Orange' variety produced by the award-winning Maine nursery and trial gardens known as Johnny's Selected Seeds.
How the lesson will work:
I've created a series of photos of the steps you will take, along with the process video of assembling the zinnias.
Things to keep in mind:
This lesson will take you all day, with breaks for drying times.
The centers MUST BE COMPLETELY DRY before adding petals. The petals should be NEARLY DRY before cutting and gluing.
You will want to prepare a space to work in that will not be disturbed for the day. This lesson has lots of strips that need drying space.
You will get covered in glue and will need to wash hands frequently (unless you are more dainty than I with that glue).
Scraps are inevitable; save them by color in paper lunch bags if you are so inclined, and staple a scrap of the color to the bag so it's easy to find when you need "just a bit" of a color.
Keep a towel nearby to clean your hands and scissors. You will get glue on yourself and your tools. Alcohol and cotton balls are a must to clean your tools at the end of the day. I use a process that turns 180 gram crepe pieces, single sheet, into double sheet, or doublette, using a lot of glue.
You will NOT be adding final coloration or conservation in this lesson, that is saved for lesson 6! Your zinnias only need conservation. Handle them with care.
Complete and Continue