A course kit is available (sold separately).
---
This course will be published for Flower and Jane in August of 2022. It is a paper flower forget-me-not course.
It is a stand-alone, anytime course meaning it lives on your digital bookshelf whenever you log in to flowerandjane.com.
A supply list accompanies superb video instruction, ensuring you have all the tools you need to acquire new skills, expand your artistic repertoire and create a handmade paper flower of the highest quality.
---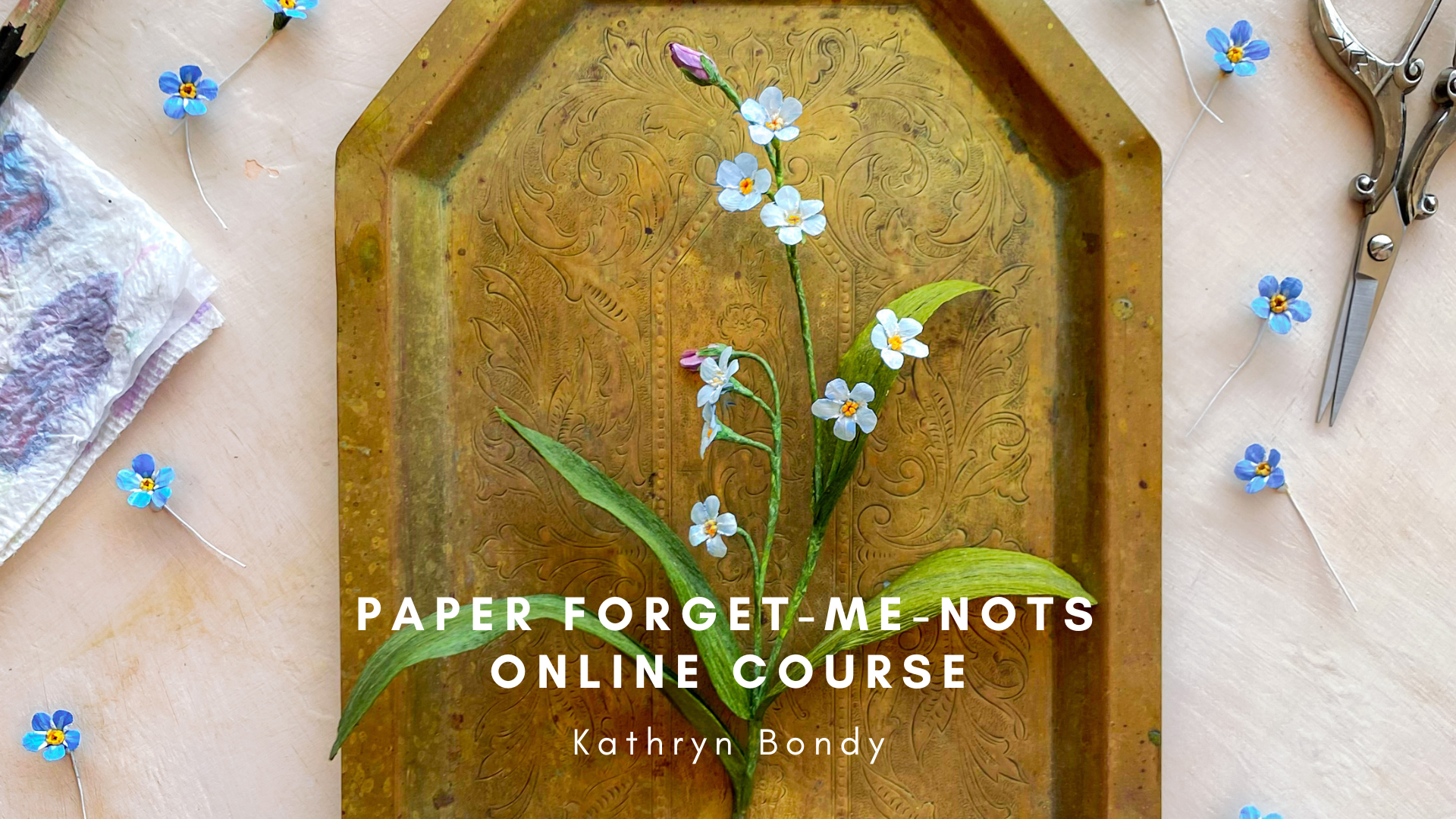 ---
Kathryn says....
There is wonder in small things: architectural models, dollhouse furniture, macro photography, even that brief moment of bliss upon your first sip of morning coffee. The amount of pleasure small things carry is not to scale to the moment itself, and from that, our wonder blooms.
In this course, forget-me-nots will inspire an enchantment with the little things. Marvel at these tiny beauties while you learn the practical skills that you need to help facilitate wonder through the art of paper flowers.
Making tiny flowers with the details to match is a challenge, and this course will show you the tools and techniques you need to create a stem of paper forget-me-nots: complete with buds, blooms, leaves and seed pods. You will learn how to make small flowers that are well-crafted and long-lasting and still retain a level of detail that is difficult to render at a smaller scale.
You will learn how to create small petals that look consistent, how to show complexity at a small scale, and ways of working that can minimize the eye and hand strain that can come with creating small flowers. This course will also teach you how to make paper flowers that are archival and long lasting, increasing their value to your potential clients.
Creating flowers that still have delicate details even at a smaller scale is a chance to show off your skilled artistry, enchant your potential customers and collectors, and engage more deeply in an appreciation for what isn't readily visible.
My hope is that by the end of this course, through studied patience you will feel encouraged to tap into the astonishment that small things bring forth in us. In his book In Miniature: How Small Things Illuminate The World, writer Simon Garfield says that "miniature items help us imagine grander schemes". Through greater scrutiny and deeper participation, I hope this course helps us to imagine what else is possible as artists working with the world around us.
---
Your instructor for this course is Kathryn Bondy, a Botanical Surrealism Featured Artist for 2022.

---
All photos and styling courtesy Kathryn Bondy
Course Curriculum
Terms of Service
Available in days
days after you enroll
Supplies and Materials
Available in days
days after you enroll
Reference Images and Procedural Steps
Available in days
days after you enroll
Your Instructor
Kathryn Bondy is a botanical artist, and creates stunningly lifelike botanical keepsakes entirely by hand. She works in her studio in Toronto, Canada: treaty land and the traditional lands of the Haudenosaunee, the Huron-Wendat, the Anishinaabe, the Metis, the Chippewa and the Mississaugas of the New Credit.
She graduated from The Ontario College of Art & Design in 2006 with a BFA in Art Criticism and Curatorial Practices, and has been a creative professional for almost 15 years. She has created work for Anthropologie, Etsy, Food & Drink Magazine, and has also worked as a florist for some of the most reputable floral designers in Toronto.
This vast creative experience and her reflections on nature helps to inform the studied and artful process behind the botanical keepsakes Kathryn creates. Her careful hands transform a wide variety of materials — paper, wool, clay, and even plastic packing tape — through refined techniques she has developed over many years. Bees, moths, butterflies, fruit and flowers are all created in a faithful realism that captures the essence of the example that nature provides.
As a teacher she hopes to encourage you to explore potential: in unconventional materials, in the alchemy of learning, and in your own creative process.